I want to kiss and lick that beautiful pussy and clit until you cum in my mouth.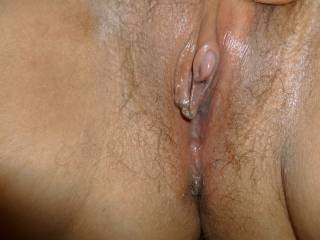 I'd explore your sweet pussy with my tongue; gently touching your clit so lightly with just the tip of my tongue, spreading your lips with my fingers, slipping one then two fingers into your sweet cunt. Watching your face to see what you like then maybe three fingers? Sliding down to to tease your asshole with my tongue while my fingers find your clit but just a touch.Waiting to feel you move, demanding more! Roll you over on your belly and lift your ass in the air with your face on the bed. Bury my face in your ass, penetrate your asshole as far a I can with my tongue while I reach under and rub your clit with my thumb.Harder now as you begin to move.Let me know if you'l like more! Kiss it, bite it, lick it, smack it, push it, pull it, grip it, hold it, rub it, spread it, fuck it.
 Massage it all over with my warm stiff cock, left, right, up and down both inner thighs, slapping against your pussy lips over and over, rubbing your hard clit until your juices coat me and are running down your thighs. Spread your gorgeous lips with my fingers, probe with my tongue, suck that perfect clit til your juices are flowing then have you sit on my face and rub yourself onto my lips, tongue and mouth until you have an earth shattering orgasm. Mmmm . Look at that nice big, juicy clit! Let me "suck' on it awhile .See if I can get it BIGGER! Sue XO! Love to lick that sweet little pussy while hubby sucks my cock. Then I fuck a couple times and her can clean us up.