Love to bury my tongue deep inside your delicious pussy until you cry out for more! Xxx Mr F.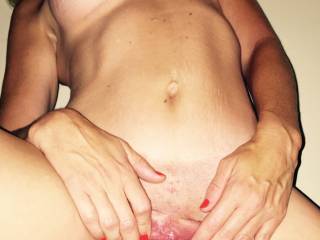 Kiss it, bite it, lick it, smack it, push it, pull it, grip it, hold it, rub it, spread it, fuck it.
 Massage it all over with my warm stiff cock, left, right, up and down both inner thighs, slapping against your pussy lips over and over, rubbing your hard clit until your juices coat me and are running down your thighs. YUMMY! After ravaging your cunt with my mouth till you cum hard, i would ram my cock in to the hilt and give you a pounding you so deserve till I empty my balls into you sweet beautiful cunt. I'd throw your legs over my shoulders and bury my Cock deep in you and fill your pussy full of my cum! Baby your hot pink pussy looks amazing! Very tempting. They should make a love doll that looks like you do in this picture. It would get lots of action from those who buy it. Bury my tongue deep inside your hot pussy making you cum over and over and fill my mouth with your sweet juices.